European policymakers are looking to punish data misuse and foster more internet competition
It was a loud and crashing warning shot: On Feb. 7, 2019, Facebook's business model came under harsh criticism from the Bundeskartellamt, Germany's Federal Cartel Office, which argued that the online giant was abusing its market position by collecting and exploiting the data of its users on a large scale. The antitrust office ordered Facebook to undergo an internal divestiture, meaning that the company would have to gain the explicit consent of its users when seeking to collect and link user data from its own suite of services as well as from third-party websites.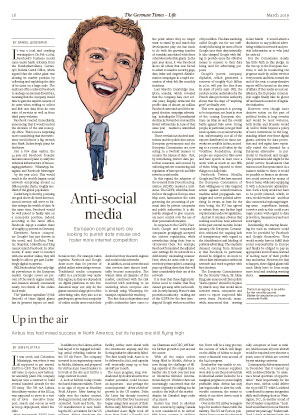 Facebook reacted immediately, announcing that it would contest the decision of the anti-monopoly office. This is not a surprising move considering that the restrictions would throw a big wrench into Mark Zuckerberg's plans for the future.
Just a few days earlier, the 34-year-old Facebook founder had announced plans to unify the technical infrastructure of its messaging platforms – WhatsApp, Instagram and Facebook Messenger – by the year 2020. This would result in the world's largest social network comprising around 2.5 billion people, that is, roughly one-third of the global population.
Zuckerberg is thereby pursuing one goal above all: these interconnected services will serve to further enlarge his wealth of data. At the same time, Facebook would be well-poised to finally take on a monopoly position; indeed, according to the cartel office, Facebook enjoys a market share of roughly 95 percent in Germany.